People in other parts of the country might not know that every once in a while we do get some sort of frozen precipitation around here. Usually this comes in the form of sleet or freezing rain and sometimes actual snow.
Needless to say, this can be quite exciting for for folks around here. At even the mention of the "s" word several things begin to happen:
*People run to the grocery store and buy bread and milk.
*All the news stations set up live remotes to keep us all upddated on the impending weather disaster
*The kids get all excited because they are certain that tomorrow will be a "snow day" -no School yee ha!
Occasionally these weather events do end up amounting to something substantial. You might not realize this but the elevation of Atlanta is quite high (about 900- 1000 feet above sea level) and the from the northern suburbs all the way to the state line at Tennessee, North and South Carolina is it the terrain ranges from just hilly to mountainous. The highest elevations in NE Ga are over 4000 feet so in some parts of the state the snow accumulation can be quite substantial.
Now keep in mind this all maybe a once or twice a year thing. The road crews don't have a lot of snow removal equipment. Why would they buy gozillions of dollars worth of equipment to own and maintain to use one or 2 days a year.
I have lived in the Atlanta area for about 40 years and in that time we have actually had a few severe weather events that included snow over 3 inches. More often the really severe frozen weather comes in the form of frozen rain which can be quite devastating. The hilly roads turn to sheets of ice, power lines and trees fall from the weight of the ice. I don't care where you moved here from, your bad weather driving experience and SUV aren't worth are darn on a steep icy hill. You are just sitting in a gian 6000 pound sled. Enjoy the ride and call your insurance company :-).
All of this leads me up to sharing our big weather event from yesterday. At about 3:30 or so people started spotting a bunch of flakes. These were in the form of weather talking heads on tv and actual snowflakes.
Here is a pic of my house in Powder Springs, GA. at about 3:45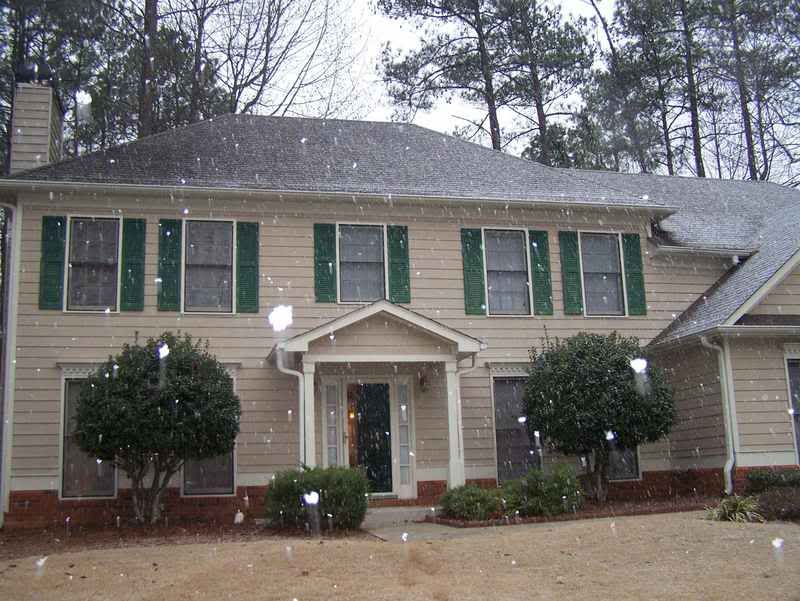 As the event went on the kids of course were certain that there would be no school today, but luckily were well stocked on bread and milk!
Sadly for the kids the temps remained around 32-33 and the snow turned to rain with no additional freezing. School today as usual and all we have to show for the entire event is a few pretty pictures.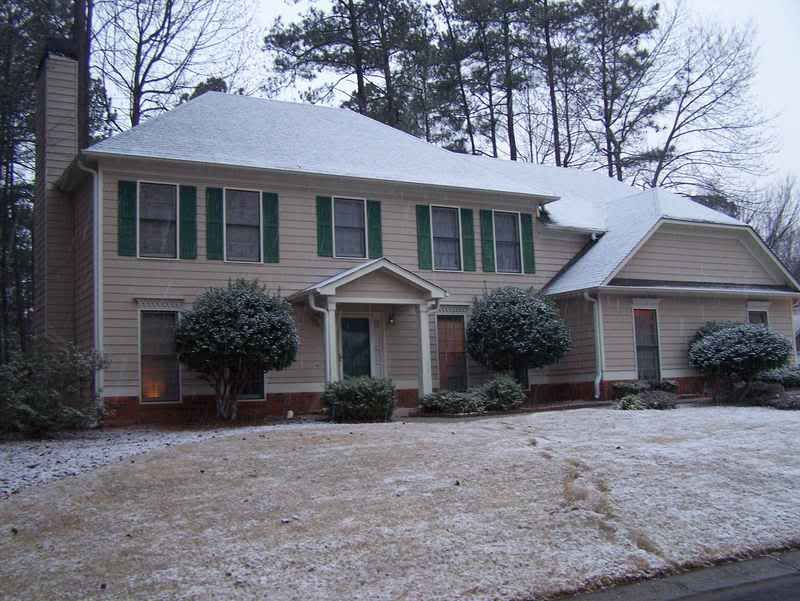 This was about 5:45
Ok, so maybe I'm being a little sarcastic about all this but the weather is truly one of the things that I love about living here in Powder Springs and metro Atlanta. The weather is not too bad and we have 4 real seasons. We get to enjoy warm summers, pretty fall colors, mild winters that still seem like winter, and the most beautiful spring times.
If you are thinking of moving to Powder Springs, Marietta, Acworth, Kennesaw, or anywhere in Cobb County or metro Atlanta give me a call. I'll be glad to tell stories about the great snow jam of 1980 or even the weather event of 2008!
*****

Bob Southard
Broker - Owner  Atlas Realty Service LLC #75911
1% Listing Commissionand BuyerRebates
www.1PercentListingSolution.com
O:678-439-SOLD(7653)
CALL ME DIRECT: 770-656-9134
Buy a home, Sell a home, in Powder Springs, Marietta, Kennesaw, Acworth, Smyrna, Dallas, Hiram,and Cobb, Paulding, Douglas, North Fulton, South Cherokee, County, Ga. Call me for all of your real estate needs.
Visit my website
bob@agentbobsells.com
Call me for all of your Real Estate needs
678-439-7653
Copyright © 2008,2009,2010,2011,2012,2013,2014,2015,2016,2017,2018 By Bob Southard, All Rights Reserved