HOA's Gone Wild!
Last night on
WSB Radio
the host
Adam Goldfein
was talking about Home Owner Associations gone wild! If you have not heard him before he has done a weekend show for a while and done some fill in work during the work for other hosts. Apparently, I'm not the only one who likes his work since he has now been rewarded with his own daily show in the 8-10pm nightly time slot. He covers a wide variety of topics from politics and current events to consumer advice.
It was a great show that of course was very interesting to me. I even had a brief twitter exchange with him and I got retweeted :-)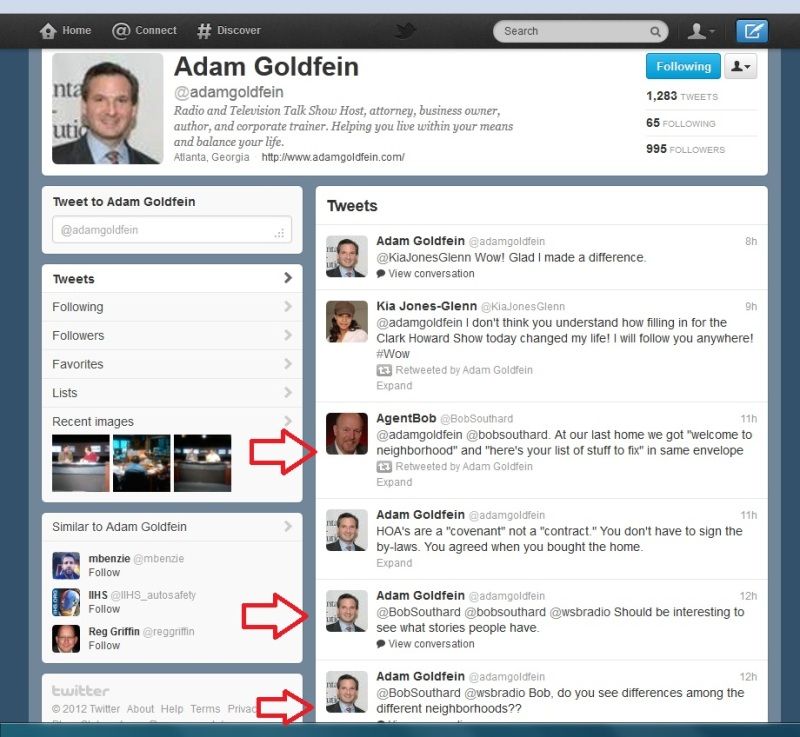 Anyway, I'll share a few things that I picked up from the show as well as a few of my own thoughts on HOA's
First, there was a recent court decision here in Ga. that basically said the neighborhood associations CAN selectively enforce the covenants. What does this mean? Here is an example. If your neighborhood only allows wood fences and your neighbor installs a chain link fence they can choose whether or not to enforce the covenant. If you then decide to install a chain link fence they could choose to enforce against you but not them. The court has said that is ok.
Most of the calls last night revolved around two basic issues.
HOA's being less than transparent in their handling of the money.
HOA's getting overly aggressive with the power they have. I have had my own dealing with that. See my old blog post here.
Georgia law has set guidelines for HOA's. If you feel that your association is misbehaving then use the law as your guide.
Here a few thoughts of my own.
If you currently live in an HOA then get involved! At least attend some of the meetings and read your newsletter. If you think your current board is a bunch of morons then get some of your like minded neighbors together and overthrow the regime :-) Serve on the board!
If your HOA does not use an outside management company I would strongly encourage them to consider doing so. There is a higher level of accountability and easier access when needed.
Before you buy in an HOA be sure that you review the covenants. Make sure that your buyers agent makes that a stipulation of your offer and that you have a time period to review them. Just one more reason to use a buyers agent and have representative on your side of the transaction.
Talk to others who already live there!
Consider how badly you want the amenities and is it worth the trade off? While the lifestyle of having a swim and tennis neighborhood might sound nice you might not be willing to put up with the antics of the HOA. Personally, I probably will not move back to an HOA neighborhood. I'm just to independent and don't much like being told what to do. But thats just me. I have had several clients who love the idea and want the enforcement to protect their own property values.
There are plenty of arguments on both sides. The main advise I would give is to do your very best due diligence and make sure that you know your rights and what you are getting in to.
*****

Bob Southard
Broker - Owner  Atlas Realty Service LLC #75911
1% Listing Commissionand BuyerRebates
www.1PercentListingSolution.com
O:678-439-SOLD(7653)
CALL ME DIRECT: 770-656-9134
Buy a home, Sell a home, in Powder Springs, Marietta, Kennesaw, Acworth, Smyrna, Dallas, Hiram,and Cobb, Paulding, Douglas, North Fulton, South Cherokee, County, Ga. Call me for all of your real estate needs.
Visit my website
bob@agentbobsells.com
Call me for all of your Real Estate needs
678-439-7653
Copyright © 2008,2009,2010,2011,2012,2013,2014,2015,2016,2017,2018 By Bob Southard, All Rights Reserved