What About Owner Financing?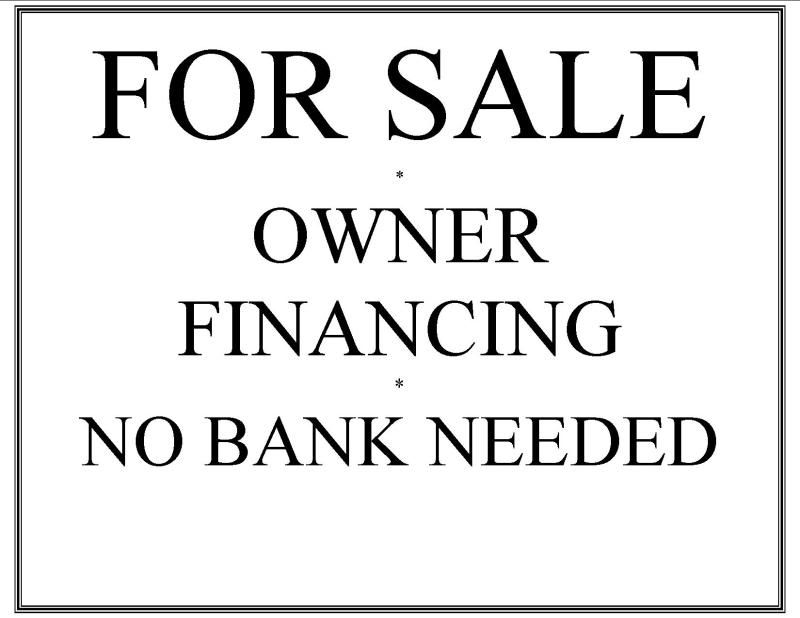 Can I buy (or sell) a home with owner financing? The question comes up all the time. I have been involved with many owner finance transactions as a buyer, seller, and an agent. It
can be
a creative solution to selling real estate. It can be a solution, but there are many pitfalls for both the buyer and the seller.
Lets take a look at some of the pros and cons.
It is true that a buyer can have limited credit or possibly even bad credit and buy with owner financing. However in almost every case the seller will name the price and terms. Good for the seller and bad for a buyer. It negates the opportunity to take advantage of a strong buyers market.
Almost all of the recent owner finance deals that I have seen have an underlying mortgage. This creates 2 risks. 1. It violates the due on sale clause of the underlying mortgage. That means that the bank that has that mortgage could foreclose even if the payments are current. It's not likely but it is a possibility. 2.The bigger risk and much more common is that the seller fails to make the payment on the underlying loan while pocketing the buyers monthly payment. That is much more common that you might imagine. The bank forecloses and the buyer loses everything they have invested.
There is a very limited supply of owner finance homes. It gives buyers very few choices. Again, it creates a sellers market where there really shouldn't be one. If you are a buyer, would you rather choose from a few overpriced homes or from every home on the market that is within your price range?
Sellers can get a very high rate of return. Since owner finance homes sell for a higher price and interest rate they make good money on the equity as well as an interest rate spread on the underlying loan.
Many of the sellers are professional investors. Selling with owner financing is what I consider to be the real estate equivelant of a "buy here,pay here" car lot. If the buyer doesn't pay they have no reservation about foreclosing and reselling the house to another buyer. I am a free market capitalist so I have no issue with the concept. However, buyers need to be well aware of the risks involved. Sellers need to be prepared to foreclose in the case of non payment.
Many of the buyers that I have spoken with would actually qualify for a mortgage. Sometimes they qualify right away and sometimes a little work is needed on the credit. Prices aren't going anywhere very fast(well except maybe still going down) so there does not need to be a big hurry to buy today. Take the time to get prequalified and make the needed credit repairs. By purchasing with a conventional mortgage you will be in the drivers seat and can take real advantage of todays market.
FHA, government insured, loans only require 3.5% down payment and they are moderately easy to qualify for. If you have adequate, steady, verifiable income and decent credit you'll probably qualify. If you have little or no credit you may still qualify. If you have bad credit but it has been good for the last couple of years you might still qualify depending on the nature of the negative credit. Would you rather buy with a higher down payment, higher interest rate, and at top price? Or would you like a lower down payment, lower interest rate, and lower price?
Buyers and sellers hire me to represent them and their own best interest. So, I have no problem representing them on an owner finance deal. However, before I do that the first question will be why do you want to do it? Let's see if we can take a few easy steps to make this a conventional transaction which may be more in your best interest!
*****

Bob Southard
Broker - Owner  Atlas Realty Service LLC #75911
1% Listing Commissionand BuyerRebates
www.1PercentListingSolution.com
O:678-439-SOLD(7653)
CALL ME DIRECT: 770-656-9134
Buy a home, Sell a home, in Powder Springs, Marietta, Kennesaw, Acworth, Smyrna, Dallas, Hiram,and Cobb, Paulding, Douglas, North Fulton, South Cherokee, County, Ga. Call me for all of your real estate needs.
Visit my website
bob@agentbobsells.com
Call me for all of your Real Estate needs
678-439-7653
Copyright © 2008,2009,2010,2011,2012,2013,2014,2015,2016,2017,2018 By Bob Southard, All Rights Reserved