Meet Herman Cain
(a good bit of the bio was from an email forwarded to me. I have cleaned it up and added some extra info)
Herman Cain is running for president. He's not a career politician (in fact 

he has never held political office). He's known as a pizza guy, but there's 

a lot more to him. He's also a computer guy, a banker guy,  and a rocket 

scientist guy. 


Here's his bio: 


Bachelor's degree in Mathematics from Morehouse College.
Master's degree in Computer from Science Purdue University.
Mathematician for the Navy, where he worked on missile ballistics
 (making him a rocket scientist). 


Computer systems analyst for Coca-Cola.
VP of Corporate Data Systems and Services for Pillsbury (this is the

 top of the ladder in the computer world, being in charge of information 

 systems for a major corporation). 

 
All achieved before reaching the age of 35. Since he reached the top of the information systems world, he changed  careers! 


Business Manager. Took charge of Pillsbury's 400 Burger King
 restaurants in the Philadelphia area, which were the company's poorest 

 performers in the country. Spent the first nine months learning the business 

 from the ground up, cooking hamburger and yes, cleaning toilets. After three 

 years he had turned them into the company's best performers. 


Godfather's Pizza CEO. Was asked by Pillsbury to take charge of their
 Godfather's Pizza chain (which was on the verge of bankruptcy). He made it 

 profitable in 14 months. 

 In 1988 he led a buyout of the Godfather's Pizza chain from Pillsbury. 

He was now the owner of a restaurant chain. Again he reached the top of the 

 ladder of another industry. 




He was also chairman of the National Restaurant  Association during

 this time. This is a group that interacts with government on behalf of the 

 restaurant industry, and it gave him political experience from the 

 non-politician side. 


In 1994, as head of the National Restaurant Association, he had the opportunity to speak with President Clinton during a nationally televised town hall meeting. 
Here, Herman challenged the President regarding the impact on businesses if his health care overhaul proposal were passed. President Clinton attempted to
 assure him and the millions of viewers watching at home that his legislation would not harm American business owners and their employees.
Herman was skeptical. "Quite honestly Mr. President, your calculations are incorrect," he said. "In the competitive marketplace, it simply doesn't work that way."
 His words echoed across America, and Newsweek named Herman Cain the primary saboteur of Hillarycare.
*
*
( Note:He did send the numbers to President Clinton as requested.
 Mr Cain is still waiting for a response.  Just imagine Herman Cain debating President Obama!)


 Having reached the top of a second industry, he changed careers again! 


Adviser to the Federal Reserve System. Herman Cain went to work for the

 Federal Reserve Banking System advising them on how monetary policy changes 

 would affect American businesses. 


Chairman of the Kansas City Federal Reserve Bank. He worked his way up

 to the chairmanship of a regional Federal Reserve bank. This is only one 

 step below the chairmanship of the entire Federal Reserve System (the top 

 banking position in the country). This position allowed him to see how 

 monetary policy  is made from the inside, and understand the political 

 forces that impact the monetary system. 

 

After reaching the top of the banking industry, he changed careers for a 

fourth time! 



 Writer and public speaker. He then started to write and speak on
leadership. His books include   Speak as a Leader , CEO of Self , Leadership
is Common  Sense , and They Think You're Stupid .
Radio Host. Around 2007-after a remarkable 40 year career-he started
hosting a radio show on WSB in Atlanta (the largest talk radio station in
the country).
He did all this starting from rock bottom (his father was a chauffeur and
his mother was a maid). When you add up his accomplishments in his
life-including reaching the top of three unrelated industries: information
systems, business management, and banking-Herman Cain may have the most
impressive resume of anyone that has run for the presidency in the last half
century.
************************************
I have been a supporter of Cain for President even before he announced. I did my first blog
about Herman Cain in March of 2009! There were several links and posts on Facebook well before that.
 Keep in mind the first citizen movement "Tea Party" events were not until April of 2009.
We had a family day out with an estimated 15,000 others for his presidential announcement.
Click for link the blog, photos and video
Last Sunday Oct 2, 2011 Barbara and I went to see him up close and a Dekalb County GOP event.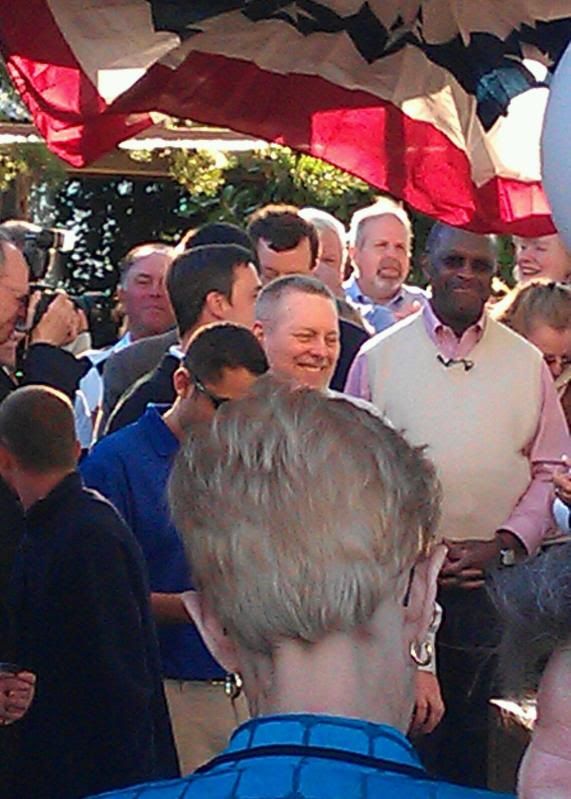 There were about 400 people there(my own best guess at crowd size) so we were able to get up close!
Here is just a brief snippet from his presentation last Sunday.
"Know Your Target"
*
Herman Cain at Dekalb GOP from AgentBob on Vimeo.
*
For more information about Herman Cain visit
www.HermanCain.com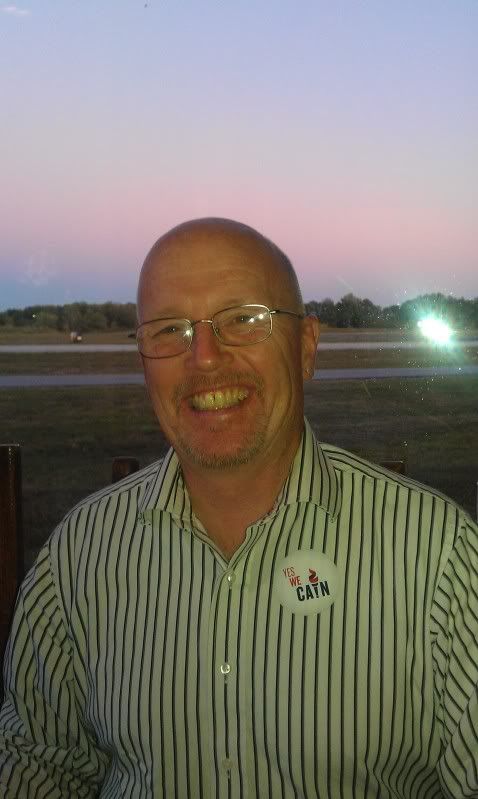 Yep, That's me after the event at PDK airport.
*****
Bob Southard is a Realtor(r) with Solid source Realty, inc and an unabashed Herman Cain Supporter



*****

Bob Southard
Broker - Owner  Atlas Realty Service LLC #75911
1% Listing Commissionand BuyerRebates
www.1PercentListingSolution.com
O:678-439-SOLD(7653)
CALL ME DIRECT: 770-656-9134
Buy a home, Sell a home, in Powder Springs, Marietta, Kennesaw, Acworth, Smyrna, Dallas, Hiram,and Cobb, Paulding, Douglas, North Fulton, South Cherokee, County, Ga. Call me for all of your real estate needs.
Visit my website
bob@agentbobsells.com
Call me for all of your Real Estate needs
678-439-7653
Copyright © 2008,2009,2010,2011,2012,2013,2014,2015,2016,2017,2018 By Bob Southard, All Rights Reserved