1965 "Mercer" Cobra CSX 2451   
From the time before I was born to about age 20 or so my dad had one of the finest car collections anywhere in the country.  Over those years I had the chance to see and drive many of the worlds most unique automobiles.  Without a doubt one of the most memorable was the "Mercer" Cobra.  AC Cobra chassis number csx2451
The Mercer has been on my mind lately since it just sold at the RM Monterey Auction.  I have a link below to the RM site which has a ton of photos and very detailed history.  Here are the basics.   In the early 1960's famed auto designer
Virgil Exner
wrote an article and did 4 car designs for Esquire magazine.  The designs were his concept of what 4 classic American cars would look like if they were built at that time.  
Stutz, Packard, Dusenberg, and the Mercer
.
The brass era of automobiles.  Early 1900's Mercer Raceabout was the
original inspiration for the "Mercer" Cobra
The Copper Development Association saw the article and thought the the Mercer design would be a great way to showcase the use of their metals.  Think about the promo bikes that they build on "American Chopper" add two more wheels and put the whole thing on an the chassis of the most iconic car of the day, the AC Shelby Cobra, and this is what you get!
LINK TO RM AUCTION LOTS AND LOTS OF PHOTOS AND DETAILED DESCRIPTION
The car is longer and heavier than the standard 289 Cobra.  It does not have the speed or handling of the Cobra and wouldn't be expected to.  I think the fact that the car ran and drove at all was an afterthought.  This was built as a showpiece.  Some Cobra purists don't like the car because,well, it doesn't look like a Cobra.  Tough beans! It is an extreme design meant to capture the imagination and in no way was really meant to practical. The Mercer Cobra is without a doubt one of the most unique vehicles produced in the 60's and is a fantastic piece of Automotive history.
My opinion for  what its worth is that the $660,000 sale price was a bargain.  OK, for those of us who live in the real world, $660,000 for any car out is insane and saying $660,000 and bargain in the same sentence is nonsense.  However, in the
collector car world where rare cars are treated as works of art
I believe that the buyer got a great deal!
A very young me along with Atlanta newspaper columnist Ron Hudspeth and the Mercer Cobra
Notice the retractable headlights are open for this pic. You can tell by the hair and fashions this was definitely the 70's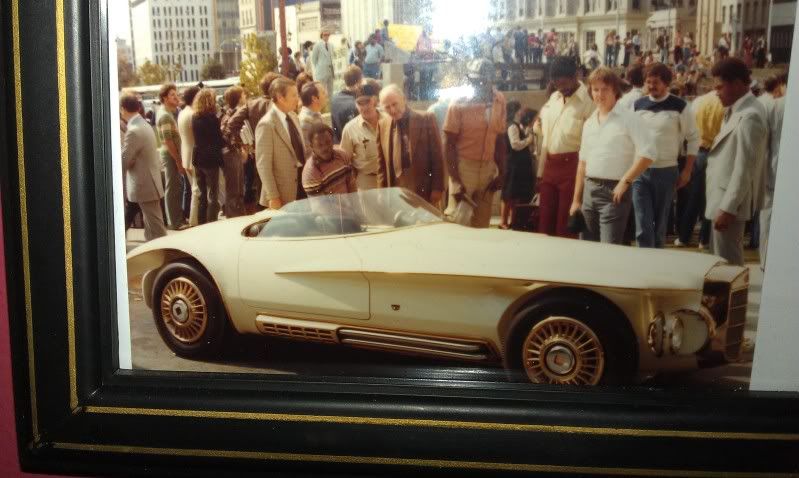 That me standing by the left front fender with my hand in my pocket...
Every once in a while I write about the James Southard Collection.  Dad had some great cars it brings back great memories for me.  I have even had a few current owners of some the cars contact me and share current photos.  So if you are a current owner or historian with one of his former cars feel free to contact me!

Cobra, Shelby,duesenberg,Bugatti,delage,aston-martin,lagonda,rolls royce, hispano suiza, issotta franschini, Bentley, Alfa romeo, jaguar
*****

Bob Southard
Broker - Owner  Atlas Realty Service LLC #75911


O:678-439-SOLD(7653)
CALL ME DIRECT: 770-656-9134
Buy a home, Sell a home, in Powder Springs, Marietta, Kennesaw, Acworth, Smyrna, Dallas, Hiram,and Cobb, Paulding, Douglas, North Fulton, South Cherokee, County, Ga. Call me for all of your real estate needs.
Visit my website
bob@agentbobsells.com
Call me for all of your Real Estate needs
678-439-7653
Copyright © 2008,2009,2010,2011,2012,2013,2014,2015,2016,2017,2018 By Bob Southard, All Rights Reserved
Follow Bob on Twitter , FaceBook, and LinkedIn
Agents! $19.95 for 800 capture,fax,virtual tours,showing feedback,more!