2 GREAT Reasons to buy now!
Before I go forward I want to make a few strong assumptions:
Home ownership is a LONG TERM investment! The days of moving up every 3-7 years are OVER! Plan on being in your home 10-20 years or more. If you think there is a good chance you'll be moving in the next few years then RENT.
Home values are still volatile but your home will always be worth something! It might be higher than today or it might be lower. But it will always be worth something. For my illustration below I used 0% appreciation over the next 15 years.
Why Buy? Here are 2 great reasons to buy NOW!
Fixed Payment. Except for small changes in the cost of insurance and property taxes your payment remains the same.

Your rent will go up

.
Equity. As you make payments the loan begins to pay off. In my example below I used a 15 year mortgage. In 15 years your payment is $0 (OK you do still have to pay the taxes and insurance)
Here in Cobb County, Ga. there are tons of homes available for about $100,000. Typical rent on these homes would be about $1000 per month. So lets see what happens if you buy that $100,000 home instead of renting it.
By the time you throw in taxes, insurance, mortgage insurance you have about the same payment. More or less $1000 a month. Now don't fall in to that trap of it cost the same to rent as it does to own. There are other costs to home ownership. You cut the grass, fix the toilet, change the furnace filter, etc. Or you pay somebody to do it for you. When we look at the rent vs buy calculations there is some amount factored in for repair and maintenance.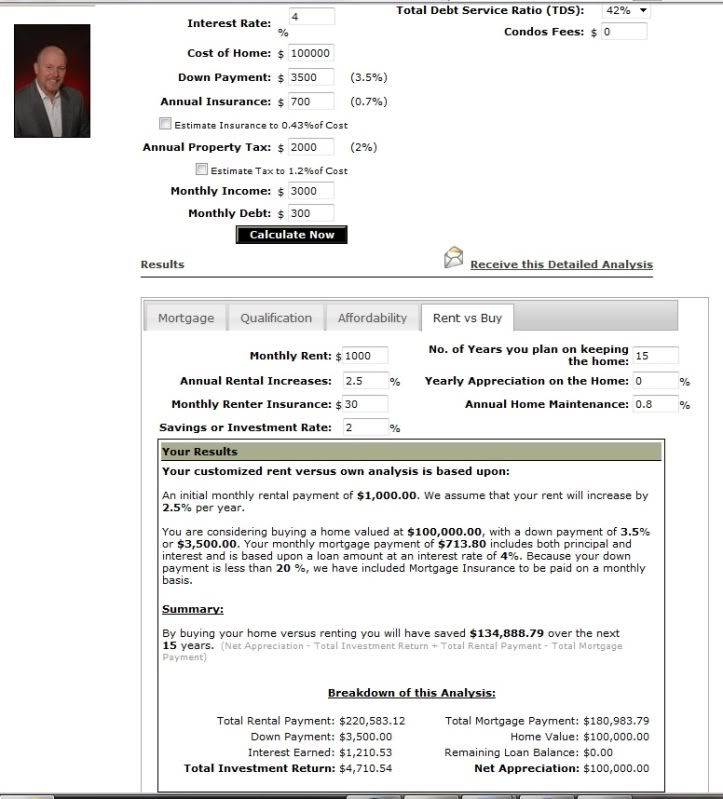 So after 15 years you have paid about $181,000 in mortgage payment vs $220,000 in rent. If you rented and kept the $3500 down payment in savings you have a whopping $4700 in the bank. If you own you now have a $100,000 home FREE AND CLEAR!!!! You are still paying taxes and insurance but that still leaves about $800 a month that you can now invest in your 401k or other retirement funds. None of this even considers the fact that you have also been claiming the interest payments as a deduction on your taxes!
Use your own numbers, rent, and home cost. Check out my payment and rent vs buy calculator
Payment Calculator and Rent vs Buy
There is a very nice selection of homes available for $90-100,000. See them all right here!
See Cobb County Homes for Sale
Priced $90,000 - $100,000
15 years from today you could be mortgage free.
If you like that thought then give me a call!
*****

Bob Southard
Broker - Owner  Atlas Realty Service LLC #75911
1% Listing Commissionand BuyerRebates
www.1PercentListingSolution.com
O:678-439-SOLD(7653)
CALL ME DIRECT: 770-656-9134
Buy a home, Sell a home, in Powder Springs, Marietta, Kennesaw, Acworth, Smyrna, Dallas, Hiram,and Cobb, Paulding, Douglas, North Fulton, South Cherokee, County, Ga. Call me for all of your real estate needs.
Visit my website
bob@agentbobsells.com
Call me for all of your Real Estate needs
678-439-7653
Copyright © 2008,2009,2010,2011,2012,2013,2014,2015,2016,2017,2018 By Bob Southard, All Rights Reserved