Half a lifetime goes so quickly....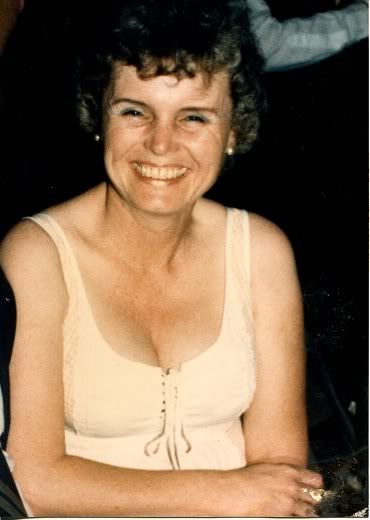 Half a lifetime goes so quickly. Aug 2, 1985 was the day my mom lost her battle with colon cancer. I was 26 at the time but even then I didn't realize how young 48 is . As I approached 48 myself that became immensly apparent. Now at 52 it has been half my lifetime. I am not complaining by any means. I am the oldest of 8 kids. One brother died at age 2 from spinal meningitis, so there are 7 of us. I am the oldest, so for each of my siblings it has already been more than half a lifetime. When ever Aug 2 rolls around I try not to be sad but thankful for all the things I have in this life and all that mom gave me. Of course she is still always in my thoughts but even more than that she is in me, in my actions, in my personality.
Prayer of Saint Francis of Assisi
Lord, make me an instrument of your peace.
Where there is hatred, let me sow love;
where there is injury,pardon;
where there is doubt, faith;
where there is despair, hope;
where there is darkness, light;
and where there is sadness, joy.


O Divine Master, grant that I may not so much seek
to be consoled as to console;
to be understood as to understand;
to be loved as to love.
For it is in giving that we receive;
it is in pardoning that we are pardoned;
and it is in dying that we are born to eternal life. Amen
*
*
*****

Bob Southard
Broker - Owner  Atlas Realty Service LLC #75911
1% Listing Commissionand BuyerRebates
www.1PercentListingSolution.com
O:678-439-SOLD(7653)
CALL ME DIRECT: 770-656-9134
Buy a home, Sell a home, in Powder Springs, Marietta, Kennesaw, Acworth, Smyrna, Dallas, Hiram,and Cobb, Paulding, Douglas, North Fulton, South Cherokee, County, Ga. Call me for all of your real estate needs.
Visit my website
bob@agentbobsells.com
Call me for all of your Real Estate needs
678-439-7653
Copyright © 2008,2009,2010,2011,2012,2013,2014,2015,2016,2017,2018 By Bob Southard, All Rights Reserved