DADISMS

Happy Fathers Day!

When I was growing up my dad was, and still is, full of great positive, motivational sayings. You know, all that positive thinking stuff to make you feel good even when you're not supposed to. At age 77 dad is still pretty dang sharp! I sent him an email to get a list of his favorite sayings and about 20 minutes later I got this back! There is no doubt that these ideas are as much a part of his life as air itself!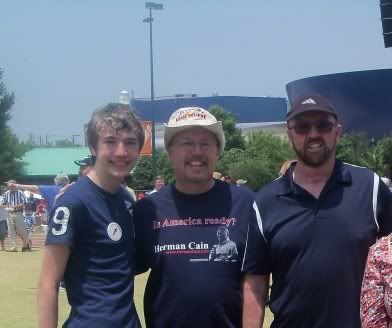 3 generations
Ryan Southard, Bob Southard, Jim Southard
DADISMS
THE HARDER YOU WORK THE LUCKIER YOU GET
LIFES BATTLES DO NOT GO TO THE STRONGER OF FASTER MAN BUT SOONER OR LATER TO THE MAN WHO THINKS HE CAN
ALWAYS DO MORE THAN YOU ARE ASKED TO DO
THE SIZE OF YOUR SUCCESS WILL DEPEND ON THE SIZE OF YOUR THINKING
THE BIG SECRET IS SPELLED
W-O-R-K
SUCCESS COME TO THOSE WHO ARE SUCCESS CONSCIOUS - FAILURE COMES TO THOSE WHO ARE FAILURE CONSCIOUS
THE WORST FEARS ARE CAUSED BY TROUBLES THAT NEVER HAPPEN
SUCCESS IS THE TRYING FAILURE IS THE GIVING UP
WINNERS ARE THOSE WHO STUMBLE THEN GET UP TO WIN AGAIN
HOW YOU THINK WHEN YOU LOSE DETERMINES HOW LONG IT WILL TAKE YOU SUCCEED
LIFE IS LIKE A BANK ACCOUNT YOU TAKE OUT OF IT WHAT YOU PUT INTO IT PLUS INTEREST AND APPRECIATION
IN THE END ALL THAT MATTERS IS LOVE AND FAMILY
OUT OF EVERY NEGATIVE SITUATION SPRINGS THE SEEDS FOR GREATER ACCOMPLISHMENT
TO BUILD A BUSINESS OR A LIFE..FIND A NEED AND FILL IT
YOUR GREATEST JOYS WILL COME FROM GIVING
DESIRE , DISCIPLINE DEDICATION AND DEVOTION ARE THE FOUR PILLARS OF SUCCESS AND MUST BE MOUNTED ON A FOUNDATION OF CONFIDENCE AND FAITH
YOU HAVE TWO EARS AND ONE MOUTH..USE THEM IN THAT PROPORTION
SUSTAINED ENTHUSIASM IS LIFES MOST PRECIOUS HABIT
WE ALL GET KNOCKED DOWN AND RUN OVER...ITS HOW YOU PICK YOURSELF UP THAT COUNTS
FAMILY AND LOVE ARE THE TRUE MEASURES OF SUCCESS
TRY TO SPREAD YOUR INNER JOY WITH ALL YOU MEET...YOU HAVE A CHANCE EVERYDAY TO HELP THOSE YOU MEET BE HAPPY
YOUR SMILE MAKES MANY SMILES
DON'T BE AFRAID TO SAY I AM SORRY.
DO NOT BE AFRAID TO CRITICIZE YOUR SELF AND SELF CORRECT
GODS GREAT GIFT IS LOVE
MAKE A BALANCE SHEET ON YOURSELF...WHAT ARE MY STRENGTHS AND WEAKNESSES.?..THEN IMPROVE BOTH
DEFEAT IS ONLY TEMPORARY...IT IS A STEPPING STONE OR A STUMBLING BLOCK DEPENDING ON HOW YOU ACCEPT IT THAN IMPROVE
HOW YOU PICK YOURSELF UP WHEN YOU FALL WILL BE AN EXAMPLE FOR ALL THOSE YOU LOVE
ON THE PLAINS OF HESITATION BLEACH THE BONES OF COUNTLESS MILLIONS WHO HAVE STOPPED TO REST AND DIED WHILE RESTING
THE FIRST 100 YEARS ARE THE HARDEST, AFTER THAT IT'S EASY!
*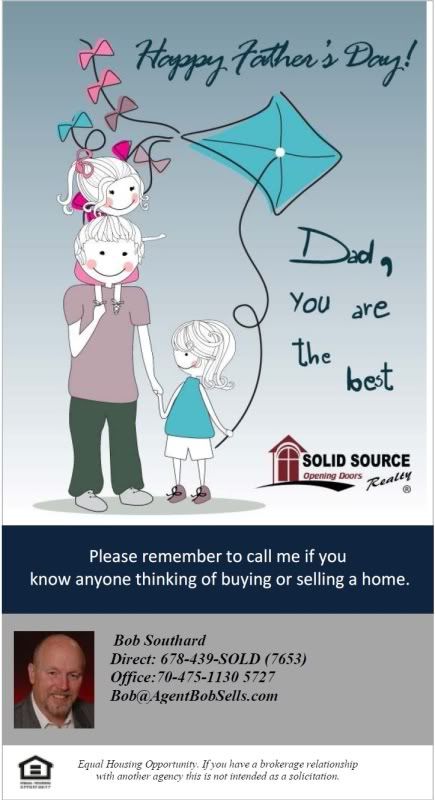 *
*****

Bob Southard
Broker - Owner  Atlas Realty Service LLC #75911
1% Listing Commissionand BuyerRebates
www.1PercentListingSolution.com
O:678-439-SOLD(7653)
CALL ME DIRECT: 770-656-9134
Buy a home, Sell a home, in Powder Springs, Marietta, Kennesaw, Acworth, Smyrna, Dallas, Hiram,and Cobb, Paulding, Douglas, North Fulton, South Cherokee, County, Ga. Call me for all of your real estate needs.
Visit my website
bob@agentbobsells.com
Call me for all of your Real Estate needs
678-439-7653
Copyright © 2008,2009,2010,2011,2012,2013,2014,2015,2016,2017,2018 By Bob Southard, All Rights Reserved