Farewell to an old friend...

She came in to my life about 4.5 years ago. I needed a moderately nice 4 door sedan for for my real estate business. It was just there sitting unused beside the building that I worked out of at the time. It had been sitting for a few months since she bought a replacement car. The tires had gone flat and the paint was shot form years sitting outside. A '95 Jag that my real partners wife had purchased almost new about 10 years prior. It had about 12,000 miles on it when she bought it. When I bought it had about 120,000. Everybody said that's high for a Jag. I heard all the stories about how I better have my own personal mechanic, blah, blah.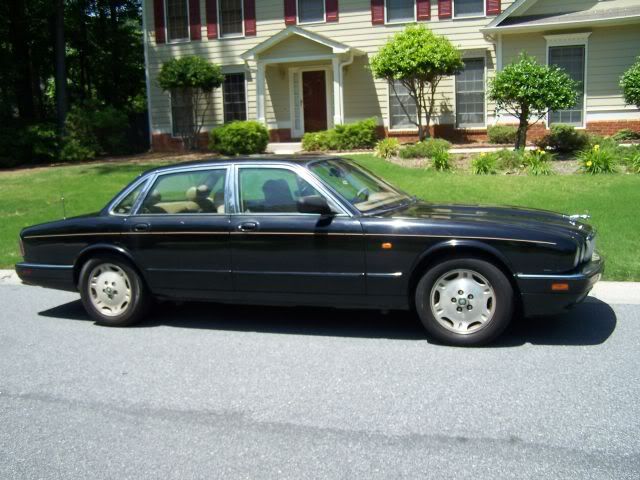 It met my needs at the time and the price was right. I never told people how much I paid for the car because I always wanted people think that since it was a Jag it was probably expensive. It was true that I did get a lot of comments like "wow, you're driving a Jag, you must be selling lots of houses". Oh those ill informed 1st impressions can be so misleading! I paid $2000 for the car. It immediately needed about $700 in repairs to get it running properly and past the strict Georgia emissions test. About 2 years after that I did have to have a fuel pump installed and I put a battery in it last winter. Other than oil changes and routine maintenance that was it. The car was rock solid dependable and I never hesitated to drive it anywhere.

Here is a tip for agents or anybody trying to save some money on a car. Luxury cars with a few extra miles can be bought pretty cheap. It beats the heck out of a $500 per month car payment!

Finally the time came to say goodby. 4.5 years is the longest that I have ever owned any car. I put the ad on Craigslist and had several calls. Today a young man with more energy and mechanical skills than bought the car. It had 193,000 miles and the Kelley Blue book on it was still $1850. I let him him beat me up a little on the price and finally let him give $1700 cash.

I guess since I drove it for 4.5 years and put about 70,000 miles on on it I did OK... I think that Dave Ramsey would be proud :-)



*****

Bob Southard
Broker - Owner  Atlas Realty Service LLC #75911
1% Listing Commissionand BuyerRebates
www.1PercentListingSolution.com
O:678-439-SOLD(7653)
CALL ME DIRECT: 770-656-9134
Buy a home, Sell a home, in Powder Springs, Marietta, Kennesaw, Acworth, Smyrna, Dallas, Hiram,and Cobb, Paulding, Douglas, North Fulton, South Cherokee, County, Ga. Call me for all of your real estate needs.
Visit my website
bob@agentbobsells.com
Call me for all of your Real Estate needs
678-439-7653
Copyright © 2008,2009,2010,2011,2012,2013,2014,2015,2016,2017,2018 By Bob Southard, All Rights Reserved