Hi Taco Mac Fans! I had the incredibly good fortune to be the winner of the 2012 Southern Home Brewers challenge sponsored by Taco Mac and Red Brick Brewing. Beginning on Jan 1 it will be one of the featured beers of the Month at every Taco Mac! The whole thing has been just incredibly cool.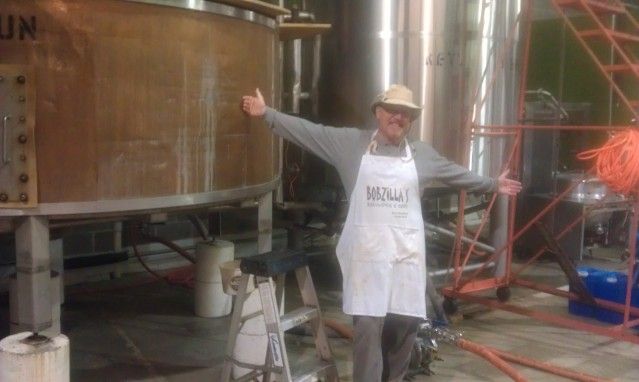 Me. At Red Brick Brewing to Make the winning brew!

I just found out they are even putting my face on a pint glass. I hope this does not cause people to go in to shock and spill their beer :-). I sent them about 10 different photos of me to use for marketing. I sent 9 that were pics of me doing fun stuff including a pic of me and the Queen(my choice for the labels) and 1 business head shot. The head shot was my last choice but it is the one thats going to be on the glasses. :-)

Anyway, Jan 1 I will be at Marietta to taste the Red Brick version of my "Queens Imperial Cherry Chocolate Porter" and of course watch the Dawgs shuck the Nebraska Cornhuskersrs. If you are there please say HI! BTW, they changed the name simply to Chery Chocolate Porter. At home we simply call it the Queens brew since the beer was originally made as birthday gift for the Queen of the house.


Fred(Taco Mac Beer guy/Beverage Director) also asked me to come out to the pint night Thursday at the Prado in Sandy Springs and I'm sure I will be at some of the other locations throughout the month.

Whether I am there or not I hope you stop by any Taco Mac In Ga or TN and taste my winning brew.

Right now it is only available at Taco mac locations. Later in the year Red Brick is supposed to bottle it for distribution in stores.

So people have already been asking me if I am going to go be a brewmaster somewhere or open my own brewery, LOL. NO!!!! Not anytime soon anyway, maybe in my retirement career I will open a brewpub somewhere but that is many years away. Right now I love real estate. I recently completed my broker courses and am officially an associate broker with Solid Source GA. Also I am just days away from opening my own brokerage for the sole purpose of offering rental property management. So in addition to being an associate at Solid Source Ga, I will also be the owner and managing Broker of Atlas Realty Service LLC. 678-995-RENT (7368).

More and more people are choosing to rent out there homes to cover their mortgage payment so they can move on to their next home. Also, with todays low prices and comparatively high rental rates the investor market is growing like crazy. I think the time for rental management is perfect!

People have also asked me how much money I make off the beer sales? All Fame. No fortune. It pays $0. My chance to make money from it is to get some Taco Mac patrons to connect me the brewer to me the Real estate pro and call me for their real estate needs. I guess thats how I ended up with this blog post about beer and real estate!

Lots going on and I do love real estate but beer is fun too! I hope that if you are a craft beer lover you will stop by a Taco Mac near you and have a taste.

Cheers!

Freds Beer Blog announcing the winner
http://fredsbeerpage.blogspot.com/2012/08/we-have-winner.html
*****

Bob Southard
Broker - Owner  Atlas Realty Service LLC #75911
1% Listing Commissionand BuyerRebates
www.1PercentListingSolution.com
O:678-439-SOLD(7653)
CALL ME DIRECT: 770-656-9134
Buy a home, Sell a home, in Powder Springs, Marietta, Kennesaw, Acworth, Smyrna, Dallas, Hiram,and Cobb, Paulding, Douglas, North Fulton, South Cherokee, County, Ga. Call me for all of your real estate needs.
Visit my website
bob@agentbobsells.com
Call me for all of your Real Estate needs
678-439-7653
Copyright © 2008,2009,2010,2011,2012,2013,2014,2015,2016,2017,2018 By Bob Southard, All Rights Reserved