I know the drought has been in the news for months around here. But sometimes I just have to see it with my own eyes to really understand.
There have been pictures all over the news like this one ......
showing the how dry Lake Lanier is getting. I used to spend a lot of time at the lake and I remember when it hit it all time record low of about 1052 ft above sea level. Normal pool level is about 1071. Right now we are still about 3-4 feet above the record low, but we are heading in to the driest part of the year and of course the demand has grown tremendously since 1981.
However, it all really hit home for me last weekend when I decided to take my 9 year old fishing. Sweetwater Creek State Park is not far from here and they have a nice lake there. I know they don't release water from it for drinking or irrigation so it might be a little low but it would still be a good nearby spot for some father/ son bonding.
Wrong!
We were fishing from what is basically the bottom the lake.
Here is another view of the "deepest" part of the lake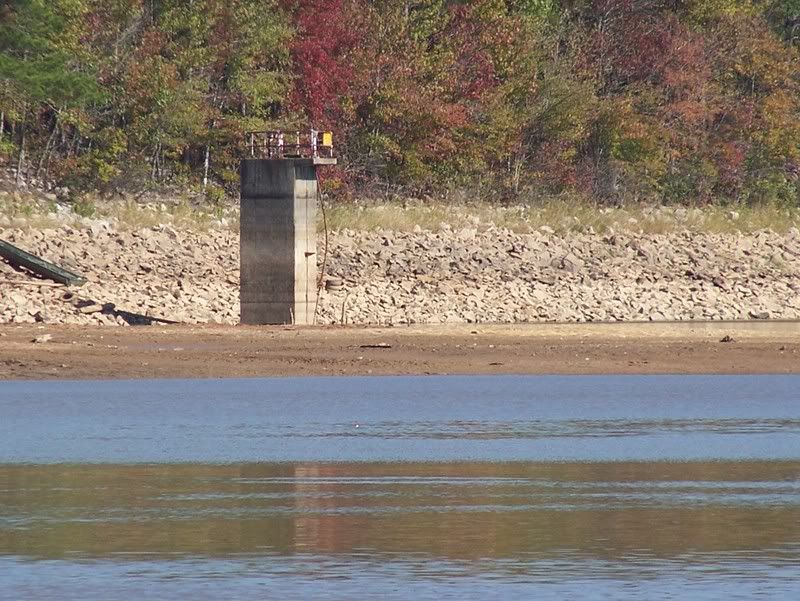 Here is a photo of our "view" from our fishing spot .......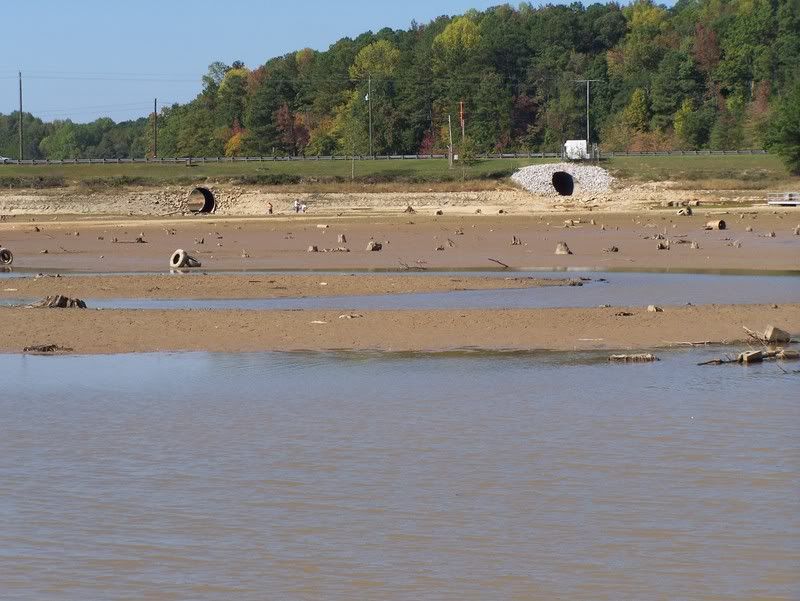 Like most other people I don't have any answers and I wasn't worried about it until it was too late. Certainly most of the local and state governments have not planned well enough. Like I said earlier we had a severe drought in the early 80's. Since then the entire metro Atlanta area has seen a tremendous amount of growth but we are still counting on the same water supply.
The Cobb County water system and the Canton water system had the foresight to begin construction on a reservoir, however it won't be completed for about 2 more years. In the wake of the current drought there have been proposals to build a series of reservoirs to maintain adequate levels of water for the future. Hopefully the powers that be will see fit to follow through on those plans. Metro Atlanta has a huge population of boaters, fisherman, and many others who would enjoy the recreational benefits of these reservoirs, and of course we would all benefit from the insurance of an adequate water supply for the future.
*****

Bob Southard
Broker - Owner  Atlas Realty Service LLC #75911
1% Listing Commissionand BuyerRebates
www.1PercentListingSolution.com
O:678-439-SOLD(7653)
CALL ME DIRECT: 770-656-9134
Buy a home, Sell a home, in Powder Springs, Marietta, Kennesaw, Acworth, Smyrna, Dallas, Hiram,and Cobb, Paulding, Douglas, North Fulton, South Cherokee, County, Ga. Call me for all of your real estate needs.
Visit my website
bob@agentbobsells.com
Call me for all of your Real Estate needs
678-439-7653
Copyright © 2008,2009,2010,2011,2012,2013,2014,2015,2016,2017,2018 By Bob Southard, All Rights Reserved